< Back to news
Aimtec Launches a 5W AC/DC Converter in a Sleeker Package and a Wider Input Voltage Range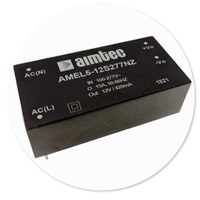 Montreal, Canada: Aimtec Launches a 5W AC/DC Converter in a Sleeker Package and a Wider Input Voltage Range
The new AMEL5-277NZ is an AC/DC converter which has been designed to offer greater economies of scale due to greater production automation, leading to improved reliability and performance. Offering a wide industrial input voltage range of 85- 305VAC and an output voltage range from 3.3-24V, this series will offer many benefits to your new system design.

This new series offers great operating temperatures, from -40℃ to 70℃ and isolation of 4000VAC for improved reliability and system safety. Furthermore, a high MTBF of 300,000h, output short circuit protection (OSCP), output over-current protection (OCP) and an output over-voltage protection (OVP) come standard with the series.

The AMEL5-277NZ is perfect for street lighting controls, grid power, instrumentation, industrial controls, telecom and industry 4.0.

For information regarding this new series, visit www.aimtec.com or have a look at our datasheet here.

<

Aimtec Launches the AMSRL-Z Open Frame S...
Aimtec Launches a SIP4, 3W High Isolatio...

>