Configuring a Non-Isolated Switching Regulator for Negative Output Voltage

Configuring a Non-Isolated Switching Regulator for Negative Output Voltage
Non-isolated switching regulators can be configured to have a negative output voltage with the addition of two capacitors. Figure 1 shows the configuration.
However, the maximum power they can regulate at their outputs is less than their rated power when used to have positive voltage.
All Aimtec 78xx series switching regulators support the negative output configuration as shown above, however output current will be reduced from expected output in positive output configuration.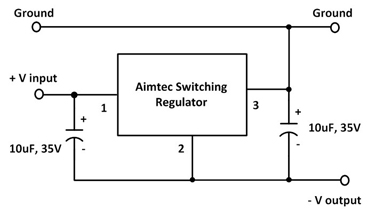 Notes: Information furnished is believed to be accurate and reliable. However, Aimtec assumes no responsibility for the consequences of use of such information nor for any infringement of patents or other rights of third parties which may result from its use. No license is granted by implication or otherwise under any patent or patent rights of Aimtec. Specifications mentioned in this publication are subject to change without notice. This publication supersedes and replaces all information previously supplied. Aimtec Products are not authorized for use as critical components in life support devices or systems without express written approval of Aimtec.
© 2012 Aimtec – All Rights Reserved